Download Color Brochure (pdf)
Click here
View Bill's New Book,
The Well-Centered Home
Click here to visit the website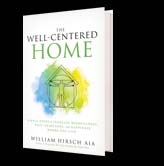 View Bill's Book, Designing
Your Perfect House
Click here to visit the website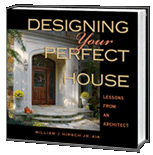 Custom residential designs are varied and diverse. Each home is a new opportunity for the expression of the owners and the site. My clients may prefer a home that captures the traditional character and feel of timeless craftsmanship and an elegant lifestyle or they may desire the spacious and open feel of contemporary architecture. It could be an energy efficient home, or an authentic reproduction of a classic, historically correct style.

Every design offers the opportunity to discuss dreams and design a realization of those dreams. The job of the architect is to listen and create from what he hears. Working closely with my clients, we design each home to suit the specific functional and aesthetic requirements of the homeowner.

Our final design will reflect both interior and exterior details that compliment the home site and most importantly, it will be a finely tailored reflection of its owner.